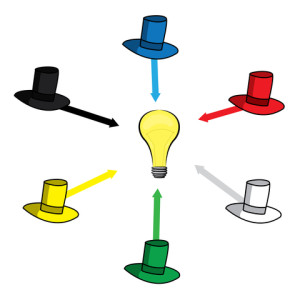 Here are some ways to help with Facilitating Decision Making with regards to career. 🙂
Creative career decision makers wear six thinking hats: blue, white red, black, yellow and green. Try to see yourself wearing each of these hats and brainstorm in that mode. You will come up with a lot of information that you can use to help you move forward and/or embrace change or stay on the path that you are on now.
White: Looks at only facts about self and situation (i.e., careers, relationship, living situation, life stage transitional issues).
Red: Relies on intuition and follows unjustified hunches.
Black: Figures out why things do not work; is pessimistic and critical.
Yellow: Is optimistic; figures out why things will work.
Green: Brainstorms new alternatives; looks at problems differently.
Blue: Is rational.
 BBCS – Baskin Career Counseling offers Career Counseling Services, New Jersey (NJ) and Nationwide for individual and Corporate Clients/Outplacement and Career Coaching . If you are looking for resume writers in the NJ area or anywhere in the USA, we are also pleased to assist you with these professional services as well. Please visit our main site at www.baskincareer.com. – See more at: http://resumewriternj.com