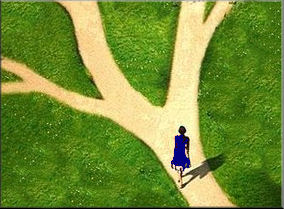 A person's career is a very personal choice and reflects his or her personality, creativity, interests, and goals. It is sometimes beneficial if one begins by choosing a career path, instead of a career.
Often career counselors conduct career pathing sessions with their clients to assist in matching innate skills and abilities with short and long-term goals.
For example, if a person demonstrates an interest in the field of biology and also enjoys dealing with people, the following is an example of a sample career path he or she might consider: If the person wanted to enter the workforce immediately upon graduating from college, he or she may explore the areas of pharmaceutical or medical sales, working for a medical or scientific publishing company in which there are research, copy writing, or editing positions, or he/she may seek an alternate route as a biology teacher. All of these positions would serve as rungs on his/her career ladder.
As the person continues to climb the ladder to a successful career, the prospect of additional promotions within or outside his company, continued educational opportunities, and the eventual possibility of starting his or her own business are also career pathing options.
Now, for another scenario. If the same person who demonstrated an interest in biology decides to become a medical doctor or research biologist immediately after graduation, that person will need to obtain an advanced degree in order to complete his or her chosen career path. After the required post graduate education is completed, there are a number of options within the specialty for the person to climb the ladder of success. He or she can go into private practice as a physician, become a senior research biologist, a professional manager within a research or scientific environment, or work for a state or federal government.
These are only a few examples of career pathing. With the help of a career counselor, you can explore many more career paths.
BBCS – Baskin Career Counseling offers Career Counseling Services, New Jersey (NJ) and Nationwide for individual and Corporate Clients/Outplacement and Career Coaching . If you are looking for resume writers in the NJ area or anywhere in the USA, we are also pleased to assist you with these professional services as well. Please visit our main site at www.baskincareer.com.